AtmosFX (atmosfx.com)
This has been my go-to for outstanding quality source material for projection projects. Their "Digital Decorations" products are specifically made for these types of illusions and each effect often includes multiple versions tailored for different end uses, including: TV display; doorway (vertical orientation), window, wall, or 3D form projection; and "hollusion" (rear projection onto a nearly invisible scrim to create a hologram-like appearance). The hollusion is the effect I used to create the very convincing illusion of ghosts frolicking in our Halloween graveyard.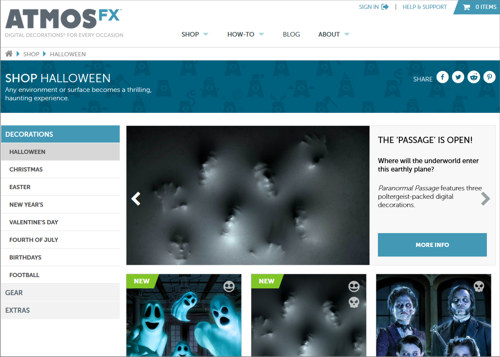 Many of their clips come in HD (1920x1080) and SD (720x480) resolutions. They all include excellent sounds too. AtmosFX's Digital Decorations are a good value for the price. You can buy whole themed sets or individual clips. Their library is quite varied, including everything from kid-friendly (the singing, joke-telling jack o' lantern faces for projecting directly onto pumpkins are a treat) to effects that are seriously freaky and unnerving.
Spectral Illusions (spectralillusions.com)
I just discovered this site this year, but I've already purchased and incorporated several of Spectral Illusions effects into my various projection video sequences. They are really good quality, though not quite as ready-made for multiple uses as those from AtmosFX, as each effect only includes a single version. These include sound as well.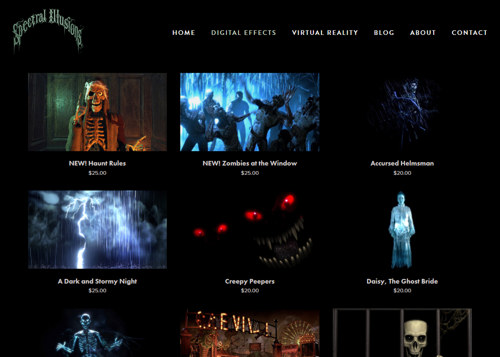 The Spectral Illusion stock clips are quite expensive, but I found some of them useful enough and of sufficient quality that I could justify the cost. They also offer custom production of footage, but I have not investigated the prices involved. Hopefully, this company will do well enough to expand their stock offerings!